2015-2016
Writing as a spiritual practice
2017
Writing and the Art of Paying Attention
Grunewald Guild
Matins in the Centrum
Library Writing Studio
This Too is Prayer: Poetry Workshop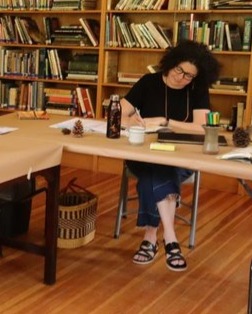 Writing Prompts in Working Notebook
Writing in Nature
Workbook: This Too Is Prayer
Gathering at the Finestere
Celtic Triple Spiral Labyrinth
Workbook: The Medium of Memory
Finistere
Notebook
Brittany Deininger on Zoom Workshop
What Past Students Are Saying:
​
"I would take any writing class Brittany ever offers.
Her preparation and her presence were top rate."
​
"I feel like I have a year's worth of work I could do with all that she provided."
​
"Brittany's instruction was gentle but challenging. She gave many opportunities to modify, choose a different option or bow out of writing prompts. She provided a treasure resource in the booklet she created for the course. The booklet will continue to be a resource I return to."
​
"Brittany's prompts were spacious and thoughtful,
and her vulnerability in leadership was such a gift."
​
"Brittany handled delicate feelings sensitively. She really walked those of us with little experience through the poetry writing aspect very well. I loved the course."
​
"Brittany did a phenomenal job of integrating art, faith, and community. Her workbook speaks for itself - but then she was also able to find the connections as we brought our own work to the studio. And - she helped us do that kind of exploration on our own, as well."
​
​
2020 July 5-11

Moved Online

(Full)
"Brittany is AMAZING.
The thoroughness and rigor partnered with such grace and attentiveness."
- writing workshop participant